On March, 15th at school № 162 have transited ecological hours on a subject «Botanical gardens of the world». School met a Head of the flora department of Samara Botanic Garden - Irina Ruzaeva and a research assistant of a garden – Ekaterina Kudriyashova.
The children listened with great interest the information about the history of Samara botanical garden, its departments, and international cooperation. Ekaterina told the schoolchildren about the flower department and its collections. Irina Rusaeva gave the school anniversary edition of the Samara Botanic Garden, which celebrates its 80th anniversary this year.
Irina Konstantinova, school coordinator of the program "Green City" thanked the guests for interesting lessons and a gift. Children from school № 162 – are old friends of a botanic garden – with impatience wait for a meeting with it when they can help a garden business!
The program "Green City" is supported by the Alcoa Foundation. Еру ecological hours were attended by 50 students.
()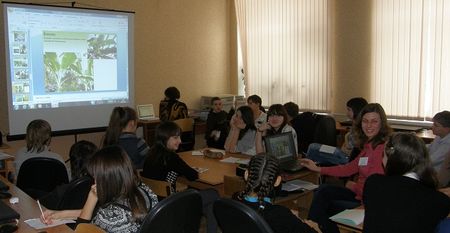 1. School students were interested with slide-show about flowers, which present Ekaterina Kudriyashova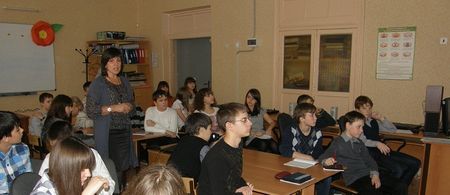 2. Irina Rusaeva talks about the mission of the botanic garden