On October 27 in the school № 150 passed professional orientation lessons where school students learn about the profession of environmental engineer. Elena Muratova, the student of Samara State Academy of Social Sciences and Humanities, told to the pupils about this profession.
At the beginning of the lesson Tatiana Guguyeva – expert in ecological education of the Training Center for ecology awarded the most active students by certificates of eco-leaders and spoke about the new project «Environmentalist as a lifestyle», invited the children to participate in its initiatives: sent to the address of the Training Center presentations, cartoons, public service announcements on listened topics.
Then Elena introduced children presentation about the environmental engineer and told what does a specialist in various enterprises: factories, laboratories, sanitation centers, and even in school! After a little explanation, Elena offered to children to stay environmental engineers by their own and handed out tests "Mercury, its use and disposal". Tests showed that it's too early for children to be engineers and for this purpose they should study much!
With task for school students from Elena was to draw the wall newspaper, telling about mercury, about where we can meet it and as it is correct to utilize it. After similar lessons, which will pass in other sponsored schools, will be chosen authors of the best wall newspaper.
The seminars of professional orientation were attended by 52 students of 8 "A" 8 "B" and 9 «А» classes of school №150. Professional orientation of students «Environmentalist as a lifestyle» is supported by the Alcoa Foundation.
()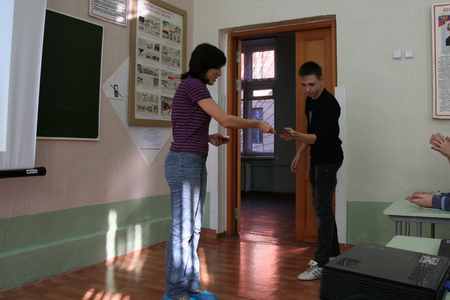 1. Certificate awarded to Tihonov Grisha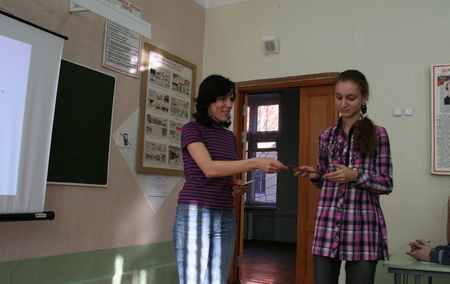 2. and Soboleva Angelina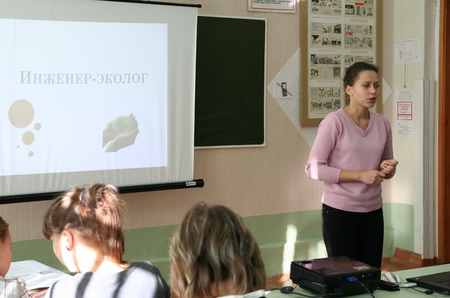 3. Elena Muratova tells to school students about a profession the engineer-ecologist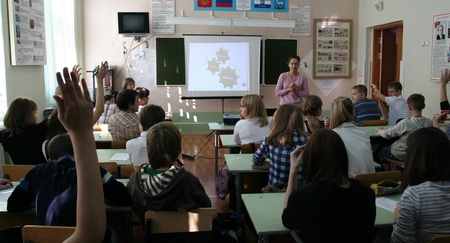 4. We find out who uses energy saving bulbs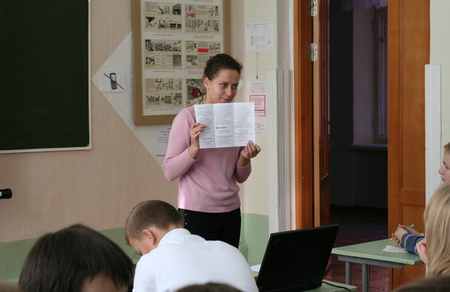 5. Elena left a memo to children: how to behave, if we broke thermometer or mercury lamp