April 19, 2014 was an action by planting forests, which became the completion of a conservation project "Revival of the Burned Forest" in the framework of the "Ten Million Trees" Program of Alcoa Foundation's and American Forests' Global ReLeaf Partnership for Trees. The starting point of the project was environmental action by planting 6,000 trees in the Krasnoyarsky forestry on September 28, 2013.
Now begun work continued 38 volunteers: students of Alcoa partner schools number 147, № 162 and № 3 under the guidance of their teachers Galina Shishkina, Irina Konstantinova and Oleg Konstantinov.
In the bus, staff of Training Center for Ecology Maria Volodina and Natalia Shvetsova told the children about direction of conservation and environmental education of Alcoa Foundation. Was told about the problems of Samara forests and that volunteers can do. About how it's done in other countries on the example of American Forests - the oldest national nonprofit conservation organization in the U.S., serving the protection and expansion of forests not only in America, but worldwide. In order to the ride was not dull, the volunteers acquainted, participated in games and won the prizes.
We were met by the chief of the Krasnoyarsky Forestry - Nadezhda Smirnova and forestry workers: Vitaly Serebryakov and Pavel Grishchenkov. While we went on a forest road, Nadezhda Smirnova showed traces of young roe deer and drew attention to plow up the land along the road: it is wild boar sought a young roots and larvae of beetles.
On a place work for the volunteers specialists of Krasnoyarsky forestry conducted a Master-class about working with "the Sword of Kolesov". Students and teachers quickly were divided into "swordsmen" and "planters" and the work began. At this time, planting were young 2-year-old aspen and 3-year old pines. So that our forest is mixed. Work went in unison, and it soon became even hot. Thanks to the coordinated work we planted about 1,000 seedlings of young trees.
After work, Nadezhda Smirnova thanked the young volunteers and invited them to come again. And finally we went to the source, where we drank a cool, clean spring water.
As Oleg Konstantinov said: "To put these seedlings - a pleasure! We are pleased that we were fortunate to participate in such an important, necessary and useful the Project ".
()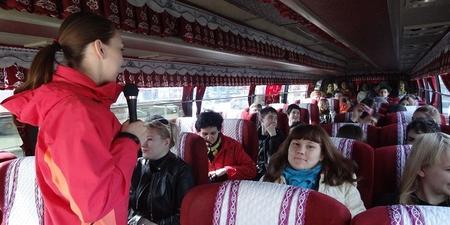 1. Shvetsovа Natalia talks with a team of volunteers

2. Master-class about forest planting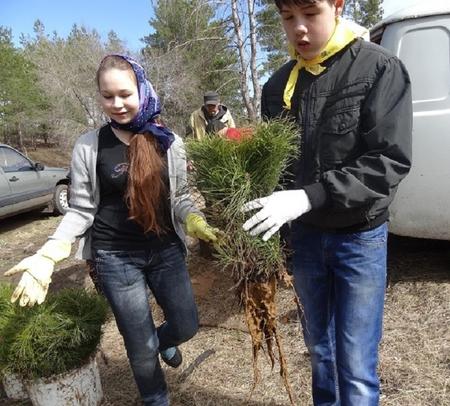 3. Before planting a seedling need to dip into a clay "talker"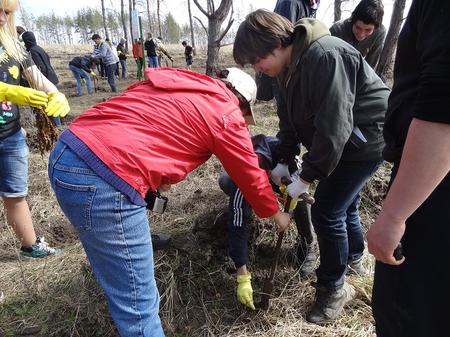 4. Job full swing!


5. We revive burned forest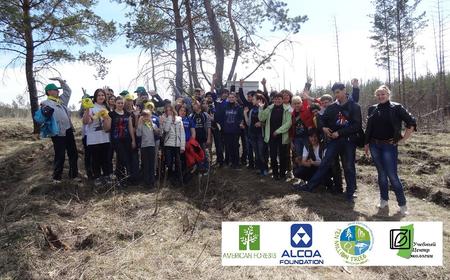 6. We have planted your own forest! Join now!