October 11, 2016 at the Training Centre for Ecology completed a successful appraisal and the award of governmental certificates on education training courses of education program "Biodiversity and protection of water resources" for biology teachers, and professionals interested in the development of additional environmental education of students.
Courses, primarily aimed at forming of teachers' vision for decisions of environmental issues and subsequent report of the knowledge to the students through the learning process and practical environmental activities.
Irina Zubkova start of the course by presentation of environmental education project "Protecting the Eco-system of the Samara River" and the role of Arconic Foundation in the development of environmental management in the region.
October 10, lesson held Alina Kopnina - leading specialist with ten years of activity in the sphere of resource conservation in the Samara region, the author and inspirer of many research and development on technologies phyto industrial wastewater treatment, associate professor of the department "Chemical technology and industrial ecology "Samara State Technical University, Ph.D., assistant professor. She told very interesting and accessible about the subject of modern technologies for treating industrial and municipal wastewater, biological treatment of industrial waste water ways, given the methodology for the application of water treatment technology in school workshops: education, educational, developmental aspects.
Continued lessons Bela Nikitinа, Samara State University Associate Professor, PhD in sociology, an active member of the public of the environmental movement, the head of the laboratory of independent expertise of regional social programs. Main accents lesson: modern factors of pollution and depletion of water resources; ideology and practice of the use and protection of water resources; individual possibilities to reduce the negative impact on water resources: the consumer behavior and the role of the school.
Teachers warmly thanked for courses and expressed a desire to participate in the project "Protecting the Eco-system of the Samara River" .
In training was attended by 32 teachers of the Samara schools №№ 96, 162, 34, 147, 6, 25, 33, 34, 84, 103, 118, 127, 156, 161, 162, 165, 168, 132, 37, 3 101, CTH "Irbis".
The action is a part of the "Protecting the Eco-system of the Samara River" Project, which performed with the financial support of Arconic Foundation.
()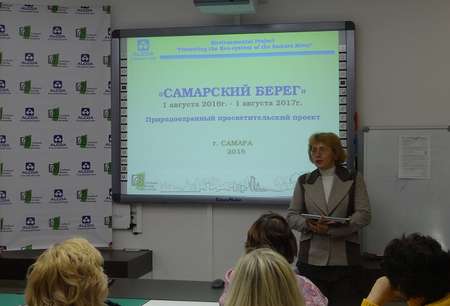 1. Irina Zubkova opened training courses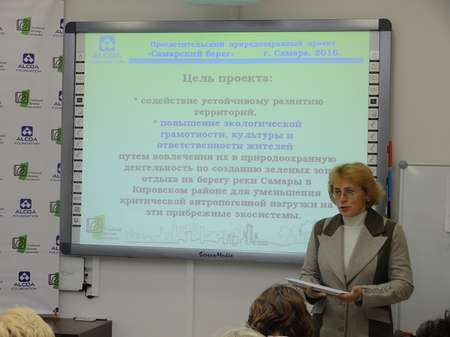 2. Presentation of the project "Protecting the Eco-system of the Samara River"


3. Lecturer Alina Kopnina


4. Bela Nikitina answers questions


5. Completion of training