On the 17th of February, school students from 8th grade of the school №50 gathered for an unusual lesson – ecological hour. Seminar «The Industry and city ecology on an example of Alcoa SMZ» was spent by the expert in ecological education of the "Training Center for Ecology and Safety" - Tatiana Guguyeva. She told the school children about the activities of the Training Centre and it's new project - "Green City", which is supported by Alcoa Foundation.
When the school students looked at the slide-show about Alcoa, they were very interested in the volunteer activities of the company. For the vast majority of the pupils the information about Alcoa SMZ was new. Only 1 out of 20 who was in the classroom heard about Alcoa, others admitted that before the lesson they haven't heard anything about the company. Schoolboys have expressed desire to participate in city ecological actions and to take part in project competitions. So Tatiana has stopped on programs of competitions in details.
Biology teacher and school project coordinator Natalia Milunova thanked Tatiana and invited her to the following ecological hours.
()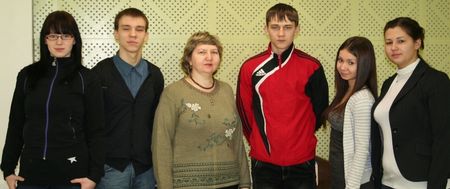 1. Natalia Milunova and future Ecoleader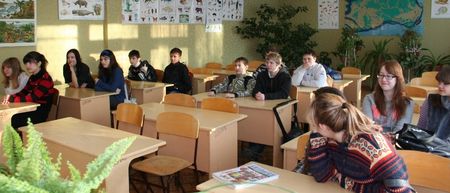 2. In the classroom