On February, 21st at school №50 has transited an ecological hour on a subject «the Industry and city ecology on an example of Alcoa». 23 pupils from 11 grade have gathered together for seminar.
The expert of Training Center Tatiana Guguyeva has told to schoolboys about the program «Green city» and has acquainted children with ecological and social aspects of Alcoa activity.
Biology teacher and school project Natalia Milunova thanked the guest and invited her to the last lessons.
The program «Green City» supported by the Alcoa Foundation.
()


1. Participants of a seminar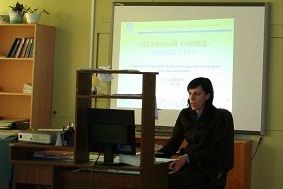 2. Tatiana Guguyeva tells about the project «Green city»