An ecological hour on "The Second Life of waste" was held April 25 in the school № 150. Slide-show on the theme presented on students of Sociology Department, Samara State University – Anastasiya Miyagchenkova and Kseniya Ukolova.
They told to the school-students that in Russia virtually no waste recycled, but basically there is their burial or incineration. In order to reduce the amount of waste which fall in the number and the good things that can still be used, students offered to organize their collection. The 3rd of May is the last date when you can bring unwanted clothes, toys (NOT SOFT!). After that, young social workers transfer them to Bogatovsky orphanage.
Participants of this action will make a double noble act:
Will help needing children.
Will assist environment – will reduce costs of utilization of old things.
Besides, the most active participants of the action will receive letters of thanks from the Samara State University.
Ecological hour was held in the framework of Alcoa Foundation and the Training Center for Ecology program – "Green City", and was attended by 30 students of the school.
()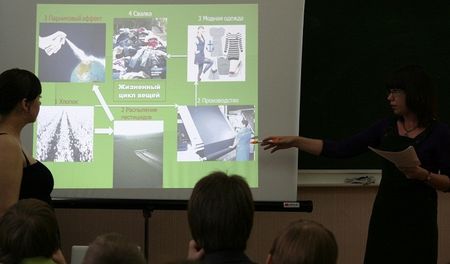 1. Anastasiya Miyagchenkova tells purples about the life cycle of things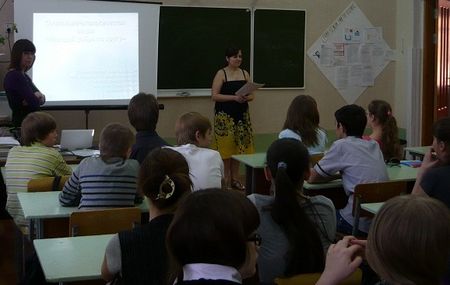 2. Kseniya Ukolova about the social – ecological action « Transfer good to another»