March 18 in the school № 162 was environmental seminar for students on "Environmental consciousness - environmental responsibility." Lecturers classes were specialists Alcoa SMZ Valeriy Pechorin and Yuliya Pistoletova.
In Lesson Valeriy, ecologist of steel plant Alcoa SMZ, discussed with students of grade 9 the pressing issues related to environmental protection. He showed for students a presentation that clearly reflects the impact of human activity aimed at obtaining specific resources and energy, on the environment. The lecturer told students the example of factory Alcoa SMZ how now produced the necessary for people products with minimal impact on the environment. Ecologist Alcoa SMZ urged relate to nature with care in the future.
Yuliya Pistoletova, manager to work with the community of JSC "Alcoa SMZ", told the children about the products of metallurgical factory and demonstrated interesting facts about its use.
The "eco-hour" was attended by 20 students. The «Green City» program is supported by the Alcoa Foundation.
()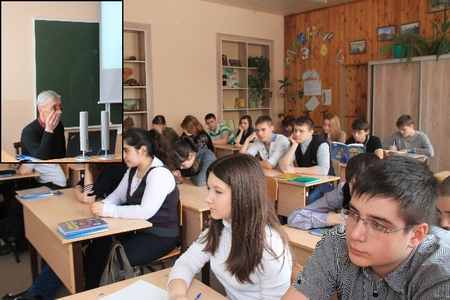 Valeriy Pechorin talks about environmental responsibility