April 21, 2013 successfully passed the second large-scale voluntary action by planting 15,000 seedlings of birch trees on an area of almost 3 hectares of burnt wood in 43 quarter Bolshetsarevschinskogo Krasnoyarsky forest forestry.
On behalf of the Training Center would like to thank all the volunteers (and we were more than 70!) who decided Sunday to devote to such a noble cause as planting new forests in place of burnt wood of previous years. This volunteers of Alcoa "Samara Metallurgical Plant", the students of the Samara State Aerospace and Technical universities, students of school number 147, 162, 133, 38, teen club "Comrade" of the Center of Children's Creativity "Metallurg" ...
Samara region as a forest-steppe region has always been vulnerable to forest fires, but it was a disaster because of the heat wave in 2010. There is no need to explain the role of forests for the life of the metropolis and the region's development, and we could not remain indifferent to this problem. We initiated a project to restore the forests of Krasnoyarsky forest on the site of the forest affected by fires 2006-2010. This project received the financial support of Alcoa Foundation, which pays great attention to environmental problems in the world. Grant funds are used for the organization of boarding and monitoring, for the purchase and delivery of seedlings, purchase of inventory and materials, fabrication and installation of environmental stands, as well as the development and promotion of the project. Especially for this event we manufactured and delivered to foresters 25 "swords Kolesov," 25 buckets, shovels 5. Foresters were very happy about this, because now they have only 5 swords and in the planting season never enough tool.
In order to get everything planned, our two buses pulled away from Samara is at 9 am. Again, to save time, the introduction to the topic of reforestation and master classes were held in the bus for 40 minutes while we were driving. Coals the night broke out, and dry grass last year served as the rapid spread of fire. And if it were not for the prompt action of specialists, not burnt one hectare, and much more. Impressed by what he saw, we went to a boarding furrows: someone sets fire, and someone planted -every man for himself determines the value of a life ...
At the edge of the furrows at this time us waited an entire truck with 1-2 year old seedlings. Quickly divided into groups of 3 persons: "Swordsman" (sword work - makes the gap for seedlings), "Planter" (monitors the surface of the roots of seedlings and plants clay mash plant), "Inspector" (check the quality of planting: fathoms to be tightly clamped ground) and started. The end of our area for work - on the horizon ... Despite the heavy physical work, mood was festive and inspiring: it is our forest! Even journalists and cameraman worked not only as professionals but also as volunteers.
Toward the end of the work we established two memorial stand with calls not to make fires in the woods, do not break trees and do not litter. Because nature is very vulnerable and in need of our protection ....
Nadezhda Smirnova thanked the volunteers for intensive work and invited to come again - this assistance will still be needed, because so far only 30 hectares of the 150 hectares of burnt wood Krasnoyarsky region cleared and planted with young trees.
On the way back were organized games and contests with prizes ridiculous (for example, toy rakes and shovels), and finally all together reminisced and sang songs with words about nature.
We hope that participation in this event for many will be an unforgettable and remarkable event in the life. And most importantly - we have seen with their own eyes the nature of vulnerability and helplessness before the barbaric acts of man, and it brings stronger than any appeals and slogans.
"Forests Restoration in Samara region" program is supported by the Alcoa Foundation and Alcoa SMZ volunteers.
()


1. Our two buses brought of volunteers to the place of action


2. Instruction on planting seedlings is in place yesterday forest fire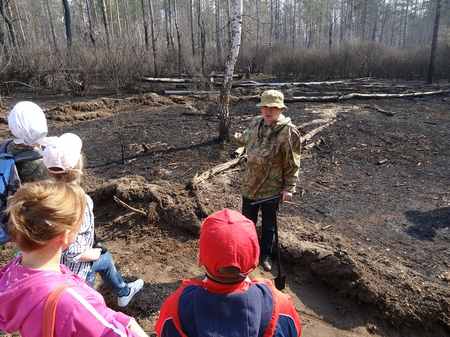 3. Nadezhda Smirnova: "This is the consequences of one careless picnic in the forest - burned about 1 hectare of forest."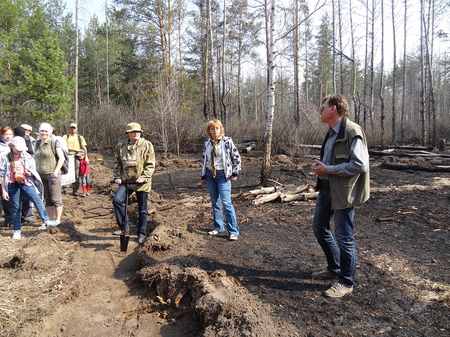 4. Igor Zubkov: "The action today was difficult and the volume and technically - do not worked with shovels but with special tool - a sword Kolesov"


5. Planting in the furrow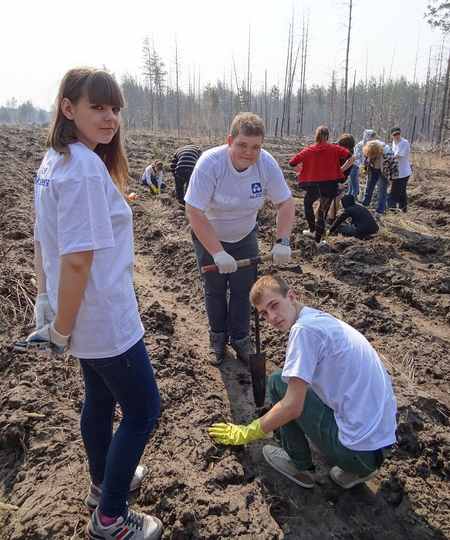 6. "Sword Kolesov" almost all hold in their hands for the first time


7. It will increase our forest!


8. Cameraman worked not only as a professional but also as a volunteer!


9.Very tired but proud participants of the action: it is estimated foresters planted nearly 15,000 birch trees on 3 ga burnt wood!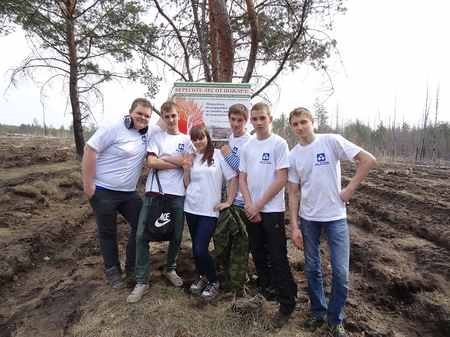 10. Environmental stand at the memory

11. Leading a team of volunteers Alcoa

12. The second stand is installed at the entrance to the forest