October 5, 2013 in Samara Botanical Gardens successfully completed a large-scale nature conservation action to install 10 special environmental stands. We remind you that the Botanical Garden was founded in 1932 and since 1977 is a monument of nature, this is one of the most important attractions of Samara. On the area of 34 ha grow more than 3,000 species, forms and varieties of higher plants!
Fourth year Training Center organizes volunteer activities on the improvement of natural areas of Samara Botanical Garden with the support of Alcoa Foundation. Pupils of the Kirovsky district of Samara participated in creating a model of the natural landscape "Zhigulevskaya Hill", in planting nursery of rare plants listed in the «Red Book», in numerous events for the care of the territory. Students now know not by hearsay about the value of the Botanical Garden. And so that other visitors can find out about it, and how to behave in the garden, Training Center produced 10 information stands.
Volunteers of Samara Metallurgical Plant (Alcoa SMZ) helped to fulfill the heavy lifting the installation of 10 stands: 34 people come on a day off to support the Botanical Garden!
The event began with a short briefing, which is held for the volunteers head of the flora of the Botanical Garden - Ruzaeva Irina. First of all, before the installation of stands it was necessary to dig pits for poles, then put all the stands with wooden poles and selected the location for installation on the Botanical Garden, which area of more than 30 hectares!
To work all participants of the action reacted responsibly and carried it quickly and qualitatively. 10 stands on the vast territory of the Botanical Garden installed in just 1.5 hours!
At the end of the action of its members was a surprise - excursion on the Botanical Garden orangery. In a orangery Irina Ruzaeva held an interesting lecture and showed a lot of exotic plants for which are specially recreated a tropical climate and very successfully grow in the Volga region of Russia.
Coffee Break has completed action, which Training Center for Ecology traditionally organized on all of its environmental activities.
The action was attended by 34 volunteers of Alcoa SMZ.
«Green City» program is supported by the Alcoa Foundation and Alcoa SMZ volunteers.
()


1. Instructing before the action.


2. To work - ready!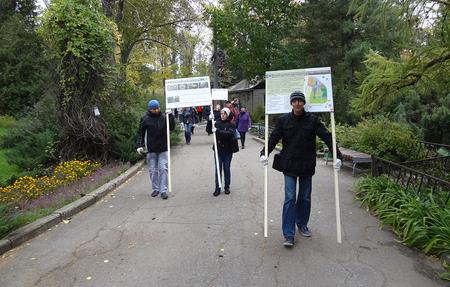 3. We bear the stands to the installation site.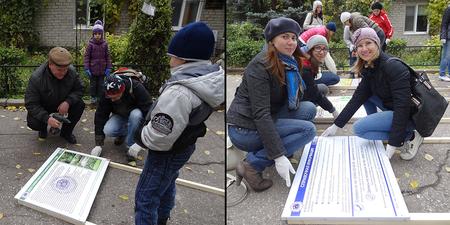 4. In order not to lose time, collect the stands with the help of the tool.


5. Install stands and check the reliability of the installation.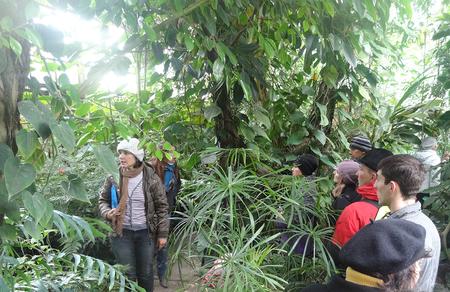 6. The abundance of exotic plants in a orangery Botanical Garden.