December 16, 2013 at school number 72 in Samara held environmental seminar for students of the seventh grade. At this time, students of the school have learned many interesting about working in the forestry, namely that you are restoring forests as an example of the Krasnoyarsky forestry of Samara region.
About how to do forest restoration, how to begin this process and how it is to afforest told Nadezhda Smirnova - chief forester of the Krasnoyarsky forestry. Students learned that forest restoration begins with the preparation for planting that are grown in greenhouses of pre-built forestry staff of the Krasnoyarsk forest. Nadezhda Smirnova also told the students about how the forest industry experts prepare to boarding area and told of forest planting technology, which uses a special tree-planting tool - "Sword Kolesov".
Students loved this "Eco-hour" and questions to the lecturer was a lot. And at the end of the lesson the students applauded his guest as a sign of gratitude for the interesting and educational seminar.
In three seminars "eco-hour" was attended by 33 students.
The «Green City» program is supported by the Alcoa Foundation.
()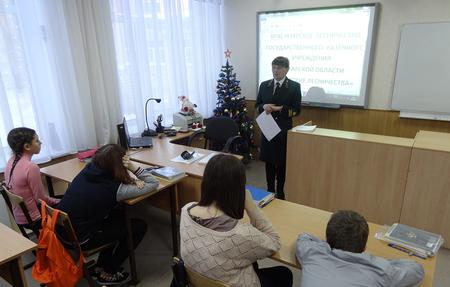 1. On the history of forestry in Russia tells Nadezhda Smirnova


2. Nadezhda Smirnova: "The process of reforestation is very long and complicated"