December 23, 2013 at school number 150 in Samara was one more environmental seminar for 5 grade students. Irina Ruzaeva - Head of the flora department of Samara Botanic Garden, told the students about the rare species of plants that grow in the Samara Botanical Garden.
In this environmental seminar, students found out structure Botanical Gardens, as well as employees of garden draw up new species of plants available to them from other botanical gardens in Russia and abroad.
Irina told students that the Botanical Garden belongs to protected areas, as its territory there are more than 3500 species of plants, most of which are rare. Within its boundaries are special rules of behavior of people during a visit to the garden.
At the end of the workshop Environmental guys thanks Irina Ruzaeva for a very interesting and unusual lesson and promised that when you visit the Botanical Garden will necessarily comply with all the rules.
The "eco-hour" was attended by 33 students. The «Green City» program is supported by the Alcoa Foundation.
()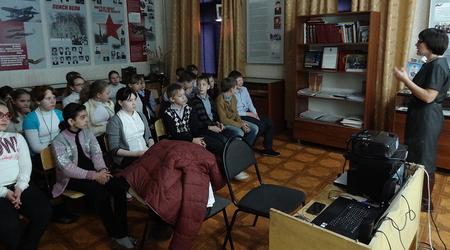 1. Irina Ruzaeva gave presentations about Samara Botanical Garden