December 21, 2016 thematic seminars on the unique natural heritage of the Samarskaya Luka were held for the students of both ninth classes of school number 147.
"Eco-hour" held a teacher of biology and ecology Galina Shishkina, who with the help of colorful and informative presentation "Protecting a Thyme on the Samarskaya Luka!" demonstrated the causes of extinction endemic species Thyme Zhigulevsky: it is - a weak competitive position in relation to turf grasses, quarrying of limestone, excessive recreation load, a collection by population as of medicinal raw materials.
Effective a documentary about the Samarskaya Luka added the impression where the authoritative scientists and experts analyzed the current status of natural communities and noted that to restore violated population (burnt or trampled) is almost impossible.
Therefore, the only measure for the conservation in the Samarskaya Luka - a careful attitude to it and non-interference in natural processes. This task is performed by created ecological paths in natural areas, especially in need of such protection "Molodetsky mound".
18 students of class 9A was participated in the seminar.
Event were held in the framework of the Project "Protecting Thymus at Samarskaya Luka", which performed with the financial support of Arconic Foundation.
()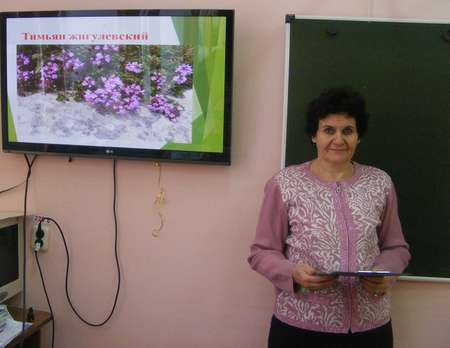 1. Galina Shishkina demonstrates the presentation "Protecting Thymus at Samarskaya Luka!"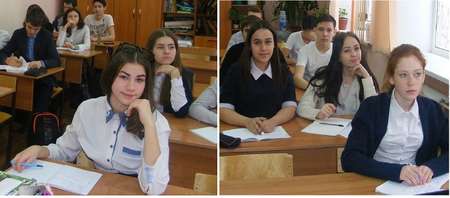 2. Students of class 9A listen with interest